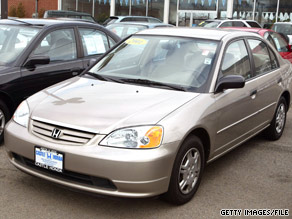 You would think that an Airbag would be one of the most important safety feature in a car. So when Honda finds out that theirs is not safe, it's recalling lots of its cars.
DETROIT (Reuters) - Honda Motor Co said on Friday that it is recalling another 440,000 vehicles -- including some of its best-selling Accord and Civic models -- for a potentially lethal airbag defect.
Honda said that the airbag inflators in some of its top-selling sedans can rupture because of too much air pressure causing metal fragments to shoot through the airbag and strike vehicle occupants.
Read the whole story:
Reuters
,
CNN
Sphere: Related Content